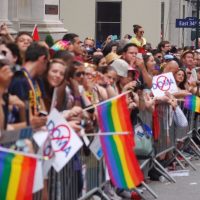 We are delighted to feature a new collection of LGBT documentaries, which explore LGBT communities around the world and the issues they face. You can browse the full collection here.
A number of these films come courtesy of the newest member of the FILM PLATFORM family: SND Films, an international sales company which specializes in acclaimed LGBT documentaries, with 20 years experience of representing the top films from film festivals across the world. Thanks to this exciting new collaboration, Gay Champions is now available exclusively via Film Platform, featuring two Dutch journalists who travel to Ukraine first Gay Pride Parade to document the country's celebrations of this LGBT milestone, but find themselves facing a far more sobering reality once they learn more about Ukraine's pervasive homophobia.
5 Days in New York and Here's Looking at You, Boy both document LBGT history. The former film takes viewers back to the origins of the gay pride movement in New York City, and the various factors which lead up to the Stonewall riots. The later film charts the coming-out story of LGBT cinema over the last few decades, featuring Stephen Frears, Tilda Swinton, Stephen Fry, François Ozon and Gus Van Sant.
Before the Last Curtain Falls (from CatnDocs) tells the story of Gardenia, the celebrated theatrical experience choreographed by Alain Platel, featuring a number of older drag queens and trans cabaret artists, performing onstage for one last time. The contrast between their outrageous performances and their vulnerability offers unsettling but multifaceted insight into these remarkable individuals.
LGBT individuals in China today are forced to negotiate the delicate balance between honouring their traditional parents and pursuing their own happiness and self-expression. Films Transit's title Inside the Chinese Closet follows the stories of Andy and Cherry, mirroring the legal and cultural process taking place in China today, against the backdrop of a nation reconciling traditional honour with new moral values.
Please click through on any of the film titles to read more about these acclaimed LGBT films and bring these titles to your school, for screenings, streaming and classroom use.