Alexandru Belc
Alexandru Belc was born in 1980, in Brasov city, Romania. He graduated Bucharest Film Academy in 2007 and got an MA in Political Science from University of Bucharest in 2012. He worked as 1st assistant director for directors such as Corneliu Porumboiu and Cristian Mungiu and was the director of several social TV campaigns.
Also, directed several short films, both fiction and documentary, including his debut documentary feature <i>8th of March</i> nominated for the 2012 Silver Eye Award and screened at the European Film Festival in Bucharest, Media Wave International Film Festival Hungary, Transilvania International Film Festival Cluj-Napoca, Making Waves New York and awarded as Best Documentary at Fine Art Film Festival Szolnok.
His short documentary film <i>The Sound of Mountains</i> was screened at Berlinale International Film Festival Berlin and his short documentary Rebel Rebel had its international premiere at Visions du Réel International Film Festival Nyon, Switzerland in 2010.
director
spotlight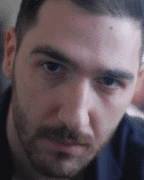 Filmography