Ben Lewis
Ben Lewis
is an award-winning documentary film-maker, author and art critic, whose films are commissioned by the BBC, Arte and a long list of broadcastersfrom Europe, North America and Australia.
Ben studied history and history of art in Cambridge and Berlin. In his twenties he worked at MTV, DJ-ed and briefly ran a record label before working on numerous magazine programmes for the BBC and Channel 4. In 2001 he established hisown documentary and film production company, BLTV.
Ben Lewis has made feature documentaries and series on highly topical subjects, which have provoked public debate and influenced political decision-making."The Great Contemporary Art Bubble'"stimulated an international controversy about the fairness of the art market in 2009, while "Blowing Up Paradise: French Nuclear Testing in the Pacific" (2004) is credited with influencing the French government's decision to compensate its soldiers and citizens who suffered illnesses after working for on atomic installations in Tahiti.
Ben is has just finished making "Poor Us: An Animated History of Poverty" for the global "Why Poverty?" documentary season and online campaign. The film will be shown on over 70 TV channels and is in competition at the IDFA
documentary festival. His most recent project is a feature documentary about the control of knowledge called "Google and the World Brain".
Among his credits are "The Great Contemporary Art Bubble" (shown on BBC, Arte, and at film festivals in Montreal, Vancouver, San Francisco, Palm Springs, Copenhagen, Florence (Lo Schermo del Arte), Cleveland, Minneopolis, Mendocino, Newport Beach, it opened the inaugural Tel Aviv Arts Film Festival and won best feature documentary at the Foyle International Film Festival), "The King of Communism: the pomp and pageantry Nicolae Ceausescu" (Grierson Award 2002); "What Brits Love", a five-part series for Arte about Britishness; "Hammer and Tickle: the Communist Joke Book" (premiered at the New York Tribeca Film Festival 2006 and won best documentary at the Zurich Film Festival in the same year). "Art Safari" (shown in the UK, Europe, Australia and America, winner of a bronze at the New York Television Awards and a German Grimme Prize in 2007). "Art Safari" featured films on Maurizio Cattelan, Takashi Murakami, Matthew Barney, Sophie Calle and Wim Delvoye, among others.
He also produced a limited edition "Art Safari" film on DVD, commissioned by the Deutsche Bank for their exhibition "Affinities" at the Deutsche Guggenheim in 2007. Ben wrote a monthly column on art for Prospect magazine 2004-2010. His articles have also been widely published in the Evening Standard, The Times, Sunday Times, Observer, Financial Times and Sunday Telegraph in the UK, Monopol magazine in Germany and Programma in Israel.
Finally, his first book, "Hammer and Tickle", a history of humour under Communism, based on his eponymously titled documentary, was published by Weidenfeld and Nicholson in 2008. It has so far been published in America, Germany, Portugal, Poland, Slovenia and Italy
director
spotlight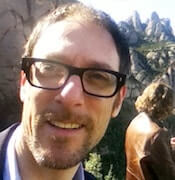 Filmography