Martin Scorsese
Martin Scorsese was born in 1942 in New York City, and was raised in the neighborhood of Little Italy, which later provided the inspiration for several of his films. Scorsese earned a BS degree in film communications in 1964, followed by an MA in the same field in 1966 at New York University's School of Film. During this time, he made numerous prize-winning short films including The Big Shave. In 1968, Scorsese directed his first feature film, entitled Who's That Knocking At My Door?
He served as Assistant Director and an editor of the documentary Woodstock in 1970 and won critical and popular acclaim for his 1973 film Mean Streets. Scorsese directed his first documentary film, Italian American, in 1974. In 1976, Scorsese's Taxi Driver was awarded the Palme d'Or at the Cannes Film Festival. He followed with New York, New York in 1977, The Last Waltz in 1978, and Raging Bull in 1980, which received eight Academy Award nominations including Best Picture and Best Director. Scorsese went on to direct The Color of Money, The Last Temptation of Christ, Goodfellas, Cape Fear, Casino, Kundun and The Age of Innocence, among other films.
In 1996, Scorsese completed a 4-hour documentary, A Personal Journey With Martin Scorsese Through American Movies, co-directed by Michael Henry Wilson. The documentary was commissioned by the British Film Institute to celebrate the 100th anniversary of the birth of cinema.
In 2001 Scorsese released Il Mio Viaggio in Italia, an epic documentary that affectionately chronicles his love for Italian Cinema. His long-cherished project, Gangs of New York, was released in 2002, earning numerous critical honors including a Golden Globe Award for Best Director. In 2003, PBS broadcast the seven-film documentary series Martin Scorsese Presents: The Blues. The Aviator was released in December of 2004 and earned five Academy Awards in addition to the Golden Globe and BAFTA awards for Best Picture. In 2005, No Direction Home: Bob Dylan was broadcast as part of the "American Masters" series on PBS. In 2006, The Departed was released to critical acclaim and was honored with the Director's Guild of America, Golden Globe, New York Film Critics, National Board of Review and Critic's Choice awards for Best Director, in addition to four Academy Awards including Best Picture and Best Director. Scorsese's documentary of the Rolling Stones in concert, Shine A Light, was released in 2008. In February 2010, Shutter Island premiered. That year, Scorsese also released two documentaries: the Peabody Award winning Elia Kazan: A Letter to Elia on PBS and Public Speaking starring writer Fran Lebowitz on HBO.
Most recently released was Scorsese's Emmy Award winning documentary for HBO, George Harrison: Living in the Material World as well as Golden Globe and Academy Award nominated film Hugo, for which he won the Golden Globe for Best Director. The film also went on to win 5 Academy Awards, as well as AFI's Best Movie of the Year. He also serves as executive producer on HBO's series Boardwalk Empire, for which he directed the pilot episode. The series went on to win the Emmy Award and the Golden Globe for Best Television Series Drama and Scorsese took home both the Emmy and DGA Awards for Directing. Scorsese's most recent feature film, The Wolf of Wall Street, has garnered him an 11th Directors Guild of America Award Nomination and his 8th Academy Award nomination for Best Director.
Scorsese's additional awards and honors include the Golden Lion from the Venice Film Festival (1995), the AFI Life Achievement Award (1997), the Honoree at the Film Society of Lincoln Center's 25th Gala Tribute (1998), the DGA Lifetime Achievement Award (2003), The Kennedy Center Honors (2007) and the HFPA Cecil B. DeMille Award (2010). In 2012, Scorsese was honored by the Broadcast Film Critics Association with the Critics' Choice Music + Film Award as well as by the British Academy of Film and Television Arts with the Academy Fellowship.
Scorsese is the founder and chair of The Film Foundation a non-profit organization dedicated to the preservation and protection of motion picture history. At the 2007 Cannes Film Festival Scorsese launched the World Cinema Foundation, a not-for-profit organization dedicated to the preservation and restoration of neglected films from around the world, with special attention paid to those developing countries lacking the financial and technical resources to do the work themselves. Scorsese is the founder and chair. Currently, a screening series of classic Polish films restored by the World Cinema Foundation will commence a North American tour in February 2014, opening at the Film Society of Lincoln Center.
director
spotlight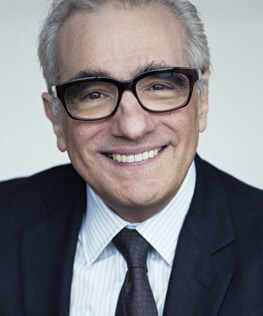 Filmography