Pietra Brettkelly
Pietra is truly passionate about everything she does – the risks she's taken in making some of her documentaries exhibit either passion or craziness. Pietra is motivated by stories that matter, the personal journeys that reflect a bigger issue.
With parents that took her everywhere from Papua New Guinea to Portugal, they encouraged a wonder and appreciation for the diversity of peoples and their stories.
"Pietra Brettkelly's engimatic rendering … is not a straightforward artist's profile, political commentary or domestic drama, but a poetic fusion of the three." Variety Magazine
Pietra says her films have a considered quietness to them, a non-judgemental approach that allows subjects to tell their stories. She treasures the honesty and the privilege people grant me in capturing and documenting an often pivotal time in their lives.
Pietra's work has featured on networks throughout the world, and screened to critical acclaim at international film festivals including the Sundance Film Festival. Her self-funded 2008 Sundance Film Festival award-winning documentary THE ART STAR AND THE SUDANESE TWINS enjoyed international success in competition at the Edinburgh International Film Festival, Hotdocs, Toronto, Zurich International Film Festival, the Melbourne International Film Festival and Rio de Janeiro International Film Festival.
The film has won the following awards:
Qantas Film and Television Best Documentary Director
Qantas Film and Television Best Festival Documentary
Best Director, EIDF Seoul Korea
Best Documentary Whistler Film Festival, Canada,
Best Editing Sundance Film Festival
Special Jury Prize Zurich Film Festival, Switzerland
Pietra is also the 2010 recipient of the New Zealand Film Commission Producer's Award.
In 2003 her film 'Beauty Will Save the World' took her to Libya for that country's first ever beauty pageant and an interview with the "mad dog of the Middle East" Colonel Muammar Ghadaffi. The film premiered at the American Film Institute Film Festival in Los Angeles and later at Hot Docs International Documentary Festival, Toronto and IDFA in Amsterdam.
Her film OCTOBER 15 has also been selected in competition for FIFO Film Festival Tahiti 2012 and was a finalist in Best Documentary, Aotearoa Film Awards.
www.pietrabrettkelly.com
www.theartstarandthesudanesetwins.com
director
spotlight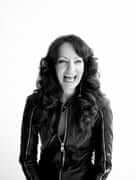 Filmography
Films by Pietra Brettkelly