Rob Lemkin
ROB LEMKIN – Director/Producer
Rob Lemkin is the founder and director of Old Street Films. He has produced and directed over 50 documentaries for BBC, Channel 4, ITV, Sky, The History Channel (US) and Arts & Entertainment. He has won numerous awards in Britain and abroad, and his work has appeared in major documentary strands for C4, BBC and ITV. He has made several films about the history and politics of Asia including The Real Dr Evil (BBC/Arts & Entertainment 2003), Who Really Killed Aung San? (BBC2 1997), Malaya: The Undeclared War (BBC2 1998), China: Handle with Care (C4 2001) Bearers of the Sword (C4 2002).
Other areas of work include music and investigative journalism. Music films include documentaries with Nina Simone, Curtis Mayfield, Bobby Womack and Chet Baker (recently in retrospective at the National Film Theatre, London); the 1986 Channel 4 feature doc Ten Days That Shook Soho; Black & White Trio, a 1989 Tate Gallery installation with composer Gabriel Jackson and artist Richard Long; an authorised musical biography of Nelson Mandela, Viva Mandela! (1990) narrated by Kenneth Kaunda.
From 2001 to 2005 he ran an investigations unit for Britain's Channel Four News producing dozens of hard-hitting films on subjects as diverse as: Chinese snakeheads, Russian oligarchs, oil prospecting in Darfur, pension finance, the privatisation of British healthcare, working conditions in call centres, and gangmasters" exploitation of undocumented labour. Many of these exposés hit their mark and influenced the way their targets or the authorities behaved.
He lives in Oxford with his partner and their four children.
director
spotlight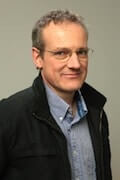 Filmography