Robert Cornellier
Writer, Director, Producer Robert Cornellier made his documentary film debut in 1978 with a film called Une autre histoire des pays d'en haut. From 1983 to 1986, he was director and associate producer of the public affairs television program, Camera Un, on the Radio-Québec network. In 1985, he directed La fuite, a feature film that attracted critical acclaim, an Honourable Mention at the Amiens International Film Festival, in Amiens, France, and a Golden Sheaf Award at the Yorkton Short Film and Video Festival in Saskatchewan, Canada (1985).
In 1986, Robert teamed up with Patricio Henriquez and Raymonde Provencher at the helm of the Nord-Sud television program on the Radio-Québec network. He quickly became one of the show's pillars, directing nearly one hundred reports filmed in twenty countries, including these prize-winners: Tajwar Kakar, moudjaheda afghane, rewarded by the Media, Islam and Muslims- MIM Award in 1989; Les défis d'Aristide, rewarded with the Grand Prix de la Communauté des Télévisions Francophones (1991); La francophonie: l'heure des choix, nominated for a Gémeaux award for Best News Special and Best Director (1992); Haïti, une société de non-droit, rewarded with a 2nd prize in the Canadian Look on Africa category at the Vues d'Afrique festival (1992) and L'enfer haïtien, also nominated for a Gémeaux award for Best News Reporting Team (1993).
Robert continued making critically-acclaimed films throughout the '90s, including, Femmes en péril (1995) and Guatemala, défier la peur (1996). In 1994, he published a book titled J'ai encore une vie à vivre, a collection of testimonials by teens fighting cancer. A year later, he teamed up with his former Nord-Sud colleagues to form the independent film production company, Macumba International. In the five years that followed, Robert co-produced and directed eight of the prize-winning documentaries in the successful Living in the City series. In addition to his role as producer at Macumba International, Robert directed a film on Judy Bassingwaithe, a community worker from Johannesburg, South Africa. The film came in second place at the Vues d'Afrique festival (Canadian Look at Africa category).
In 1998, he co-produced The last stand of Salvador Allende, followed by Images of a Dictatorship in 1999, two films written and directed by his friend and colleague, Patricio Henriquez.
In 2000-2001, Robert directed two episodes in the Extremis series: the first on child soldiers in Sierra Leone, and the second, on contaminated water in an island paradise in the Philippines. In 2003, he completed Voices of Disposable People, a documentary on modern-day bondage and slavery.
In 2006, Robert directed Endless Fallout, an episode of the Extremis series, on the long-term impacts of three major technological catastrophes in the 1980's. His latest film Black Wave focusses on the worst environmental disaster in North America: the Exxon Valdez oil spill.
director
spotlight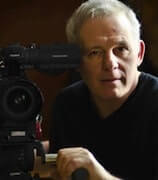 Filmography
Films by Robert Cornellier