Steven Dhoedt
Steven Dhoedt (°1980, Gent) is a Belgian filmmaker, producer and cinematographer. He studied film at the RITCS School of Arts in Brussels and graduated as a Master in Audiovisual Arts.
After his studies he moved to Hong Kong, where he lived and worked for several years, gaining experience as a freelance producer and director. In 2003 he founded VISUALANTICS, a Brussels based independent production house, focusing on creative documentaries, fiction films and new media projects.
His films have screened on numerous film festivals all over the world and have been broadcasted on TV in over 30 countries.
His work often deals with contemporary issues and subcultures, such as INSIDE THE METAVERSE (2009), a journey through online virtual worlds or STATE OF PLAY (2013), an intimate portrait of several South-Korean professional video gamers.
director
spotlight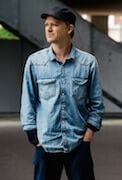 Filmography