Suha Arraf
Suha holds an M.A in Anthropology from Hebrew University, Jerusalem and a B.A in Philosophy and Comparative Literature from Haifa University, Israel.
She worked as an investigator for Betzelem, the Israeli organization for the protection of human rights in the Territories then as a TV presenter before turning into an investigative reporter and producer.
Suha did a stint writing for the daily Ha¹aretz, and worked as a researcher/producer for several international TV networks.  Apart from being a documentary film director, Suha has written three feature dramas, one of which, The Syrian Bride directed by Eran Riklis, received international acclaim. Also the lemon tree directed by eran reklis . Suha was nominated in the European   academy for 'Best script'.
director
spotlight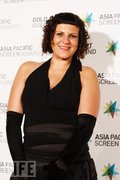 Filmography