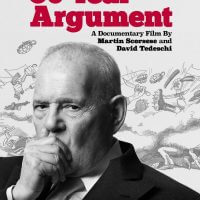 Film Platform is collaborating with The New York Review of Books to present an exclusive screening of THE 50 YEAR ARGUMENT, the latest documentary by Martin Scorsese and David Tedeschi, at this year's American Library Association Annual Conference in San Francisco.
The screening will take place on Sunday, June 28, at 8:30 am in the Moscone Center West, Room 300. The event will be open to all ALA attendees and will feature a post-screening discussion with Review contributor and Berkeley professor Mark Danner, who features in the film.
The Review are generously offering exciting giveaways to the first 50 audience members to arrive at the screening, who will receive a free copy of The New York Review Abroad: Fifty Years of International Reportage, as well as a special edition NYRB tote bag.
About the film:
Acclaimed filmmaker Martin Scorsese and longtime documentary collaborator David Tedeschi ride the waves of literary, political, and cultural history as charted by the influential publication, The New York Review of Books, America's leading journal of ideas for over 50 years. This provocative film explores the power of ideas in shaping history. The film weaves rarely seen archival footage of cultural icons, newly filmed interviews with many of the Review's current contributors with original footage reflecting the humming, restless energy of the paper's brilliant and charismatic editor Robert Silvers at work in the Review's West Village offices.
For more information about the film, and to order a copy or book a screening, please visit the film page.