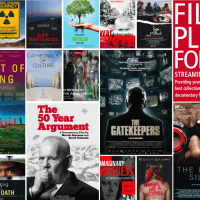 Our brand-new streaming platform offers the finest independent documentaries, fresh off the festival circuit. This carefully curated collection of exclusive titles is now just a click away, allowing students and academics to access these films from the comfort of their homes.
We are offering a range of flexible licence models, to find a system that works for each library, each budget and each user. Libraries have the option to acquire a streaming licence for individual films, multi-title collections, or access to the entire catalogue, with new titles being added regularly.
Alongside the films themselves, users have the option to bookmark and share significant sections of the films, and integrate the streaming links into their school's learning management system. Academics also have the option of creating discussion lounges, in which their students can share their views on the films directly after having seen them. This online engagement helps universities across the world to join the global conversation surrounding these important films – and the filmmakers themselves are often eager to add their voices to this discussion.
Streaming encourages greater engagement with our films. No special software is needed and the IP and Proxy access allows users to view the content on and off campus. Our detailed MARC records mean that it is easy to incorporate the streaming titles into your library catalogue.
Streaming is simple, fast and cost-effective. To learn more and bring FILM PLATFORM streaming to your university today, please get in touch.