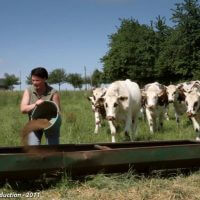 Food Industry, Poverty, and the Environment.
The best documentaries are ones that not only educate and provoke us, but offer us some feasible solutions too. These five films represent the best form of activist documentary dealing with global food networks and consumer responsibility. In Sushi: The Global Catch (USA, 2011) and The Last Catch (Germany, 2013) we get hard-hitting inside stories on indiscriminate blue fin tuna farming and the impact it is having on fragile ecosystems, livelihoods of independent fishermen, and species extinction itself. Lovemeatender (Belgium, 2011) offers an entertaining but sharp look at the repercussions of large-scale industrialization of meat production. The film makes direct links between increased meat consumption in the first world and biodiversity struggles in the third world. Nero's Guests (India, 2009) underlines these connections by showing us the human face of the burgeoning appetite for meat. In India, thousands of starving, small-scale farmers have committed suicide thanks to unsustainable forced agricultural practices geared towards exporting food grain for Western cattle fodder.
Is it inevitable that human populations in one part of the world must perish so that other populations can prosper? Last Supper for Malthus (Switzerland, 2009) confronts this moral question through multiple vignettes on poverty and starvation in poorer nations that are caused by irresponsible structures of commodity production and consumption elsewhere. All five films advocate ethical, informed consumption and offer viable long-term solutions to this interconnected transnational food crisis.