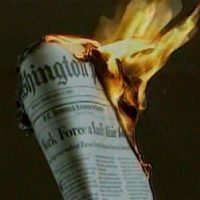 Five Inspiring Films on Press Freedom.
Today we travel from Myanmar to Colombia, China to the United States, to revisit one basic fact: that knowledge is power. We witness the unthinkable tactics deployed by governments across the world to control, repress, and forbid their citizens' access to knowledge and information.
Shadows of Liberty (UK, 2012) is a shocking exposé on the deep collusions between US mainstream media, the state, and a handful of mega corporations. This unholy triumvirate routinely silences unpalatable truths about illegal invasions, proxy wars, and third world sweatshops. Any journalist who attempts to defy this system is marginalized or worse. The dangers of independent investigative journalism are harshly highlighted through the story of Hollman Morris. Unwanted Witness (France/Switzerland, 2008) chronicles the work of this acclaimed Colombian reporter as he doggedly produces his weekly television show Contravía in the face of intimidation and death threats. Moving on to Myanmar, we meet a band of fearless video journalists committed to recording state atrocities and mass protests. In Burma VJ (Denmark, 2009) we watch with horror as the junta targets reporters on shoot-to-kill orders. These stories are as much about the democratic power of the internet and new technologies, as they are about the conviction of citizen-journalists who harness them.
Finally we visit China, home to the notorious 'great internet firewall'.  High Tech, Low Life (USA, 2012) introduces us to 'Tiger Temple' and Zola, two intrepid bloggers who risk persecution and censorship on a daily basis in order to provide their readers with under reported news. Their equipment? Cell phones, handy-cams, and laptops. Free China: The Courage to Believe (USA, 2013), is simultaneously about the brutal and systematic persecution of Falun Gong followers and the fight for internet freedom. The filmmakers present a damning case against China's repressive censorship regime and urge the international community to take action.