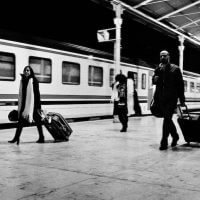 What are the currents that channel music from Global South to the North, from East to West? How does the circulation of music –through media or live performance—challenge fixed geographic categories, such as the nation state? The performers and music genres documented in these four works break down established paths of circulation and predictable modes of compartmentalization.
How did Afro-diasporic music take root in China? The members of Shanghai's Peace Old Jazz Band have been performing together since the 1980s. Aged between 65 and 87 years, many have been playing jazz for over six decades. In As Time Goes By In Shanghai we catch this extraordinary group as they prepare to travel to Rotterdam for a festival. Through their collective and individual life stories, a much broader history emerges, one that illuminates the cosmopolitan history of the famed Chinese port, from the Japanese occupation and the Cultural Revolution to the accelerated capitalism that dives it today.
Music inspires the rich emotional range and the unique structure of Gypsy Davy, as it tracks the unlikely paths taken by an American musician who re-invents himself as an Andalucian guitarist. Traveling across continents and following elusive traces, director Rachel Leah Jones playfully interweaves multiple documentary strands in order to paint a complex picture of her father and the love of his live: flamenco music.
In The Punk Syndrome, a group of young men in Finland find resonance in this music mode, forming a band that creates as much noise as it does harmony. And finally, a tribute film to the Greek-Jewish singer Roza Eskenazi, My Sweet Canary, tells the story of three young musicians from Greece, Turkey and Israel who honor the life and work of the Diva of Rebetiko. An alternate map of influence and collaboration emerges through these Mediterranean musical crossings.