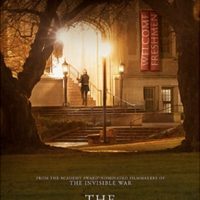 After almost one thousand screenings at high schools, colleges and universities across the United States, THE HUNTING GROUND is now available for streaming access via FILM PLATFORM.
The film has been supported by the White House and their It's On Us campaign, and features the Lady Gaga song "Til It Happens to You", which was nominated for Best Original Song at the 88th Academy Awards.
From the Academy Award-nominated filmmaking team behind THE INVISIBLE WAR, THE HUNTING GROUND is a startling exposé of sexual assault on U.S. campuses, institutional cover-ups and the brutal social toll on victims and their families. Weaving together verite footage and first-person testimonials, the film follows survivors as they pursue their education and legal justice, despite harsh retaliation, harassment, and pushback.
We are delighted to make this film available on Film Platform's streaming player through our collaboration with ro*co educational. Alongside the streaming access, we are offering exclusive study guides to help you to integrate this documentary into your curriculum. For a better insight into how easy it is for faculty and students to find, share and watch this film on our streaming server, please click here to take a look at our demo video.
You can order THE HUNTING GROUND now on the film page. If you have previously ordered a Public Performance Rights licence from ro*co, please get in touch to arrange streaming access at a discounted rate.