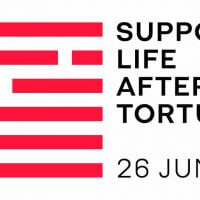 Following our 2014 collaboration with the International Rehabilitation Council for Torture Victims to promote international screenings of The Act of Killing, Film Platform is proud to be working with the IRCT yet again for their 26 June campaign.
The IRCT is a health-based umbrella organisation that supports the rehabilitation of torture victims and the prevention of torture worldwide. Their members comprise more than 140 independent organisations in over 70 countries.
On 26 June, the IRCT is organising a Day Against Torture, with the official slogan of "Support Life After Torture", alluding to the vital support victims of torture need to re-build their lives.
As part of this year's activities, the IRCT are offering their members the opportunity to host a film screening of The Look of Silence in collaboration with Film Platform. The film portrays a society shaped by extreme violence, where past atrocities are yet to be reconciled and painful memories are yet to be incorporated into public discourse. The film raises critical questions related to the theme of torture. Screenings will be taking place in the following countries: Bangladesh, USA, the Philippines, Zimbabwe, Rwanda, Croatia, the Netherlands, Sri Lanka, Colombia, Democratic Republic of the Congo, Uganda, Kenya, Jordan, the Republic of Moldova, Switzerland and Canada.
We are proud to have this opportunity to bring this film to the forefront of this vital international conversation. For more information about the plans for the 26 June campaign, please take a look at the IRCT website.