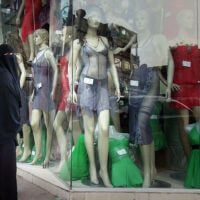 This section supports the teaching of gender and women's issues through award-winning documentaries.
Non-fiction works can generate a rich and multifaceted discussion on the politics of gender in the contemporary Middle East. These docs cover women's engagement in political parties, revolutionary and resistance movements, while tackling complex issues such as state intervention, questions of family law, and the norms that regulate sexuality and citizenship. Exploring the lives of women in the Middle East, these films provide insight into their political lives and everyday challenges.
In The Bazaar Of Sexes explores the legal side of desire in Iran through the longstanding practice of temporary marriages, a Shia custom that enables men and women to marry anywhere from thirty minutes to one hundred years. We follow a middle-aged bachelor, a divorcé, and a jovial young mullah, as legal discourses interfaces with intimacy. How does such a practice provide women with avenues for sexual satisfaction? How does it enable men and women to challenge the boundaries of sex segregation? Moving to the heart of the Middle East, In Bed with the Arab Spring profiles the brave actors who were at the front lines of the Revolution, and the ways in which gender created both internal cohesion and strife during this widespread revolt.
To what extent and under what circumstances can women of different religious and political communities occupy common social and geographic spaces? How important has gender been as one variable in social identity (along with sect, ethnicity, class, religion, etc.), and to what extent has gender identity figured into regional conflicts and wars?  Three films, Women of Hamas, Brides of Allah, and To See if I'm Smiling, shatter preconceived notions, as they offer complex and multi-sided takes on the military recruitment of women on both sides of the divide. Using diverse strategies—from archival footage to daring interviews—these works reveal how women navigate the turbulent waters of war, militarization, and religious sectarianism in this contested space.