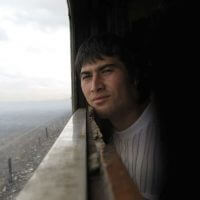 Five Personal Documentaries on Migrant Labor.
232 million. That's the estimated number of migrant workers around the world today, as per the International Labor Organization. The numbers are staggering. But human lives exceed statistics. The five films in this section give us personal, intimate perspectives on this urgent international issue.
 Long Distance Love (Sweden, 2009) humanizes the ongoing crisis of undocumented Central Asian workers in Russia through the love story of a young couple from Kyrgyzstan. Alisher must leave his pregnant wife to find work in distant Moscow. But his journey becomes a nightmare after he is cheated by immigration middlemen and joins the universal fate of illegal migrant labor: exhaustion, inhuman living conditions, social discrimination, and loneliness. In Last Train Home (Canada, 2009) we meet the Zhangs, a middle-aged Chinese couple who have worked as migrant labor for the last 16 years. They return home only once a year. Their dream is that these hard sacrifices should ensure a decent future for their children. In Which Way Home (USA, 2009) we meet other children, those who must go out and find work for themselves. We track three unaccompanied boys who undertake the dangerous, forbidden trek from Mexico to the United States. Only one of them makes it to the other side.
Special Flight (Switzerland, 2011) shows us the brutalizing experience of those who are 'caught'. We see incarcerated workers in Switzerland, awaiting deportation to their home countries, often via 'special flights' or coercive expulsions. The Tale of Nicolai & the Law of Return (Israel/USA, 2008) further highlights the double standards powerful nation-states adopt towards different types of immigration. Using an ironic folktale structure, the film follows Nicolai, an exploited and 'illegal' Romanian worker in Israel who realizes that his Jewish grandmother could change his entire status in his host country.