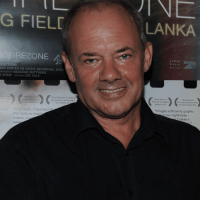 No Fire Zone is touring around leading West Coast universities, in collaboration with the Pulitzer Centre for Crisis Reporting. Award-winning documentary filmmaker Callum Macrae is visiting college campuses from New York City to San Diego, from February 2 to the 11. The screenings and Q+As provide the students across these universities to learn from Callum about his reporting experience, his filming process, the conflict and current politics at play in Sri Lanka.
The tour includes screenings of the film at New York's School of International and Public Affairs (SIPA) at Columbia University, CUNY's Graduate School of Journalism, American University, University of Pennsylvania, Washington University in St. Louis, Southern Illinois University Carbondale, and a finally University of San Diego.
No Fire Zone is an explicit and horrifying exposé of the final months of the 26-year-long Sri Lankan civil war told by the people who lived through it. Using unseen footage recorded by both the victims and perpetrators on mobile phones and small cameras, the film meticulously exposes some of the worst war crimes and crimes against humanity in recent times and becomes direct evidence of a war that was supposed to be conducted in secret.