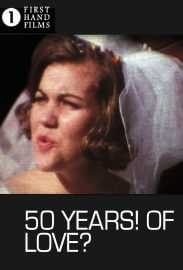 Please copy this link to share it:
https://www.filmplatform.net/product/50-years-love
Streaming Access
Unfortunately, this film is not available for streaming yet.
As soon as it will be available for streaming, it will appear in your university streaming page.
50 Years! Of Love?
What is it like to be married for 50 years? Are there any secrets that can help make it work?
The filmmakers are a couple who set out to take an honest look at marriage beyond the honeymoon and the "happily ever after" cliches. Only after completing their tour will they decide whether or not to take this giant step themselves. The research takes the filmmakers to meet "veteran" couples in the USA, South Africa, Holland and India, all of whom have been married for over 50 years.
This Week's Featured Films