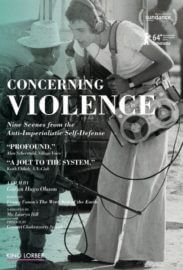 Please copy this link to share it:
https://www.filmplatform.net/product/concerning-violence
Streaming Access
Unfortunately, this film is not available for streaming yet.
As soon as it will be available for streaming, it will appear in your university streaming page.
Narrated by Ms Lauryn Hill, Concerning Violence is a bold and fresh visual narrative on Africa, based on newly discovered archive material covering the struggle for liberation from colonial rule in the late '60s and '70s.
| | |
| --- | --- |
| Running Time: | 90 min. |
| Subject(s): | Colonialism, History, Human Rights |
| Language(s): | English, French, Portuguese, Swedish |
| Director(s): | |
| Producer(s): | Tobias Janson, Annika Rogell |
| Cinematographer: | Lis Asklund, Bo Bjelfvenstam, Ingrid Dahlberg, Lars Hjelm, Roland Hjelte, Stig Holmqvist, Per Källberg, Lennart Malmer, Ingela Romare, Leyla Assaf Tengroth |
| Editor(s): | Michael Aaglund, Dino Jonsäter, Göran Olsson, Sophie Vukovic |
| Production Company: | Final Cut for Real, Helsinki Filmi Oy, Louverture Films, Story AB |
This Week's Featured Films