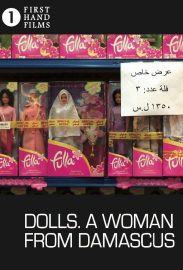 Please copy this link to share it:
https://www.filmplatform.net/product/dolls-woman-damascus
Streaming Access
Unfortunately, this film is not available for streaming yet.
As soon as it will be available for streaming, it will appear in your university streaming page.
Dolls. A Woman from Damascus
In a traditional Damascene milieu, Manal is challenged to cherish her excellence as a housewife. Still, she insists on chasing a personal dream of getting back to work. Fulla, a new doll, has become the "Dream of Every Arab Girl" with sales skyrocketing. Fulla is the ideal Arab Muslim 'Barbie', a virgin, decent, covered, who is raised up to become a respectful, obedient wife, and to live the grace of family's and society's approval.
This Week's Featured Films