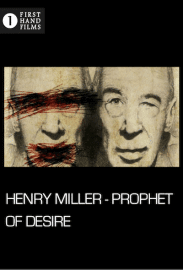 Please copy this link to share it:
https://www.filmplatform.net/product/henry-miller-prophet-desire
Streaming Access
Unfortunately, this film is not available for streaming yet.
As soon as it will be available for streaming, it will appear in your university streaming page.
Henry Miller – Prophet of Desire
Henry Miller had five wives and considered himself bound to both the continent of Europe and to the US. This portrait is a close-up of the life of the extraordinary Henry Miller, who, rebellious and narcissistic, entered the realm of the appetites, yet also maintained a vision of a freer society for all humans.
This Week's Featured Films