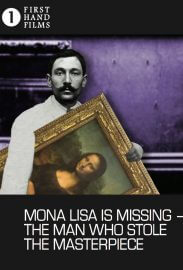 Please copy this link to share it:
https://www.filmplatform.net/product/mona-lisa-missing-man-stole-masterpiece
Streaming Access
Unfortunately, this film is not available for streaming yet.
As soon as it will be available for streaming, it will appear in your university streaming page.
Mona Lisa is Missing – The Man Who Stole The Masterpiece
Who was the man who stole the Mona Lisa from the Louvre in 1911, hid it in his flat for two years and brought it back to Italy – and what were his motivations? An unsolved mystery. Until now. An investigative trip into the history of the most famous painting of all times.
| | |
| --- | --- |
| Running Time: | 57/86 min. |
| Subject(s): | Arts and Culture, Crime, European History |
| Language(s): | English, French, Italian |
| Subtitles: | English |
| Director(s): | |
| Producer(s): | Justine Mestichelli Medeiros |
| Cinematographer: | Joe Medeiros, Fabio Pasini |
| Editor(s): | Leonard Feinstein, Joe Medeiros |
| Production Company: | Midair Rose |
This Week's Featured Films