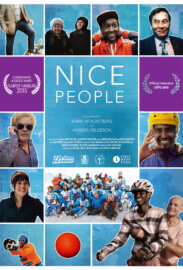 Please copy this link to share it:
https://www.filmplatform.net/product/nice-people
Streaming Access
Unfortunately, this film is not available for streaming yet.
As soon as it will be available for streaming, it will appear in your university streaming page.
Nice People
What do you do when 3000 Somalis run over your small town in the back lands of Sweden, and McDonalds starts being called 'Little Mogadishu'? Local journalist and jack of many trades Patrik Andersson has an idea: let sport unite the people. And so guys who have never known temperatures below 20 degrees become the national team for Bandy ice hockey of Somalia. Count on having some fun: they do for sure!
This Week's Featured Films