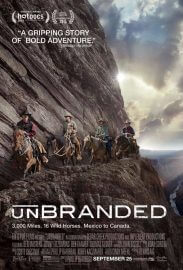 Please copy this link to share it:
https://www.filmplatform.net/product/unbranded
Streaming Access
Unfortunately, this film is not available for streaming yet.
As soon as it will be available for streaming, it will appear in your university streaming page.
On an unprecedented 3,000-mile journey through the most pristine backcountry of the American West, four friends rode horseback across an almost continuous stretch of public lands, border to border, from Mexico to Canada. For their trail horses, they adopted wild mustangs from the US Bureau of Land Management, which were perfectly adapted to the rocky terrain and harsh conditions of desert and mountain travel. Chosen to inspire adoptions from the 50,000 mustangs and burros in holding facilities across the United States, these animals became their riders' transport, nemeses, and eventual trusted companions as men and Mustangs traversed the country.
This Week's Featured Films