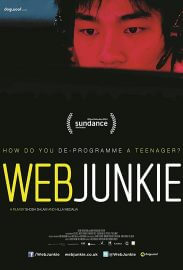 Please copy this link to share it:
https://www.filmplatform.net/product/web-junkie
Streaming Access
Unfortunately, this film is not available for streaming yet.
As soon as it will be available for streaming, it will appear in your university streaming page.
China is the first country in the world to classify internet addiction as a clinical disorder. With extraordinary intimacy, Web Junkie investigates a Beijing rehab center where Chinese teenagers are deprogrammed, focusing on three teens, their parents and the health professionals determined to help them kick their habit. The film goes behind the scenes at the treatment center and explores the cases of three young Chinese teenagers from the day they arrive, through the 3 months period of being held at the center, and their return to their homes.
| | |
| --- | --- |
| Running Time: | 74 min. |
| Subject(s): | Addiction, Arts and Culture, Asian Studies, Children, Education, Health, Human Rights, Internet, Science, Society, Technology, Youth |
| Language(s): | Chinese |
| Subtitles: | English |
| Director(s): | |
| Producer(s): | Hilla Medalia, Shosh Shlam, Neta Zwebner-Zaibert |
| Cinematographer: | Sun Shaoguang |
| Editor(s): | Enat Sidi |
| Production Company: | Shlam Productions/Know Productions |
This Week's Featured Films