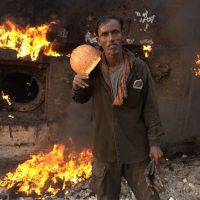 5  Compelling Films from Asia
The five documentaries we showcase today, present a subaltern experience of the mobile dynamics of capital; an experience that threatens to bring all of the world's poor under the rule of one global capital.
Powerless (India, 2013), a festival favorite from last year, tells the story of third world infrastructural breakdown from 'a frontline of globalization' – Kanpur city. Here we meet Loha, a modern-day Robin Hood figure, who defiantly steals electricity from municipal power lines for the improvisational leather export industry. In Long Distance Love (Kyrgyztan/Sweden, 2009), a young newly-wed couple must be separated in the search for employment. 18-year-old Alisher Sultanov travels from Kyrgyztan to Russia to find work as an illegal guest worker in Moscow. As he battles loneliness, exploitation, and discrimination, the film reminds us of the parallel plight of his wife, Dildora, who is pregnant and struggling to cope with limited resources. Last Train Home(China/Canada, 2009) introduces us to the Zhangs who make a difficult annual train journey back home after months of labor in Guangzhou's garment factories. This arduous ritual return of workers, undertaken during the Chinese New Year, is considered the world's largest human migration and emblematizes the human price of cheaply manufactured commodities. Further south, we meet Belal (21) who started work in the shipbreaking industry of Chittagong at the age of 11. Iron Crows (Bangladesh/South Korea, 2009) is about those who do the dangerous manual work of breaking toxic ships dumped by Western companies.
Through their bittersweet stories these characters connect the dots between first world consumption, precarious labor, and the logics of global finance. These linkages are starkly summed up by Nero's Guests (India/Finland, 2009); we learn about thousands of farmer suicides in Western India brought on by the multiple assaults of GMO giants like Monsanto.