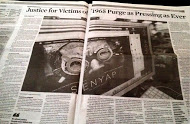 It is less than a year since The Look of Silence was first launched at its World Premier at the 2014 Venice Film Festival. The film was awarded five of the festival's top awards, and since that time has continued to attract critical acclaim and win prizes at film festivals across the world. At the latest count, the film has won over 35 awards at the most prestigious international film festivals.
Last month, The Look of Silence was released in US cinemas. The release was met by glowing reviews across the board. The New York Times called the film "a painful, profoundly empathetic work of moral reckoning", The Atlantic described it as "a devastatingly beautiful film about the power of cinema" whilst The Huffington Post has already declared it "one of the best films of the year". Time Out have labeled the film "the best documentary of the year," and Twitch Film have described Oppenheimer's diptych as "the most important documentary project of the 21st century."
Comparisons with the Oscar-nominated The Act of Killing are of course inevitable. The Hollywood Reporter wrote that this whilst "every bit as frank and shocking as last year's The Act of Killing… The Look of Silence is perhaps even more riveting for focusing on one man's personal search for answers as he bravely confronts his brother's killers." The Guardian described The Look of Silence as "just as piercingly and authentically horrifying as before." The Los Angeles Times wrote that in this film "the result is no less stunning, an encounter with the banality of evil in the most visceral way."
As The Look of Silence continues to attract critical attention and touch audiences across the world, it follows the tradition set by The Act of Killing, in becoming a key text in a broad range of academic disciplines, from Indonesian history, to trauma studies, to genocide, to documentary ethics.
The educational release of the film will take place on 1 September, and The Look of Silence is available to pre-order now from our website, for screenings, library copies and streaming access.