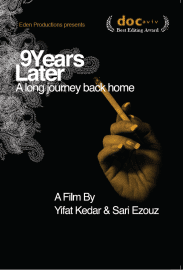 Please copy this link to share it:
https://www.filmplatform.net/product/9-years-later-a-long-journey-back-home
Streaming Access
Unfortunately, this film is not available for streaming yet.
As soon as it will be available for streaming, it will appear in your university streaming page.
Danielle, a Jew who grew up as a Muslim in Morocco, struggles for the right to bring up her son, Nasser. Nine years after she was forced to leave him and moved to live in Jerusalem, she returns to Morocco to fight for custody. She sets off to meet her son, now 14, and her Muslim family. To her surprise, the greatest difficulties come from Israeli society and the levels of bureaucracy which threaten this fragile relationship.
This Week's Featured Films