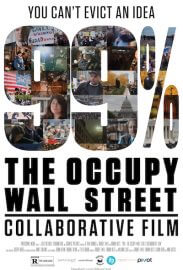 Please copy this link to share it:
https://www.filmplatform.net/product/99-occupy-wall-street-collaborative-film
Streaming Access
Unfortunately, this film is not available for streaming yet.
As soon as it will be available for streaming, it will appear in your university streaming page.
99% Occupy Wall Street Collaborative Film
In September 2011, The Occupy Wall Street movement propelled issues of economic inequality into the spotlight. 99% – The Occupy Wall Street Collaborative Film goes behind the scenes of the movement, definitively revealing what happened, and why. Personal stories imbue analysis of big picture issues with the real-world struggles of those compelled to take action, speak up, march, and risk arrest. Supporters, participants, experts and critics shed light on why and how this movement took off with such explosive force, and ask what the next phase might encompass.
This Week's Featured Films