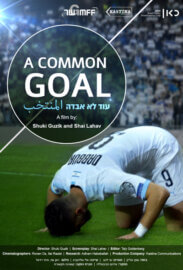 Please copy this link to share it:
https://www.filmplatform.net/product/a-common-goal
Streaming Access
Unfortunately, this film is not available for streaming yet.
As soon as it will be available for streaming, it will appear in your university streaming page.
The film follows three Muslim players of the Israeli National Football Team, in which almost half of the players are Muslim, including the captain.
This creates constant friction between Jews and Arabs, especially during an important European tournament, most of which is provoked by fans and the media.
Muslim players have to deal with discrimination in Israel whilst proving their loyalty to the team at any given moment, and are criticized in the Arab world as traitors.
So their story becomes a prototype to the whole Israeli-Arab story.
This Week's Featured Films