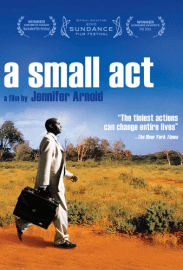 Please copy this link to share it:
https://www.filmplatform.net/product/a-small-act
Streaming Access
Unfortunately, this film is not available for streaming yet.
As soon as it will be available for streaming, it will appear in your university streaming page.
When Hilde Back sponsored a young, rural Kenyan student, she thought nothing of it. She certainly never expected to hear from him, but years later, she does. Now a Harvard graduate and a Human Rights Lawyer for the United Nations, Chris Mburu decides to find the stranger that changed his life.
Inspired by her generosity he starts a scholarship program of his own, which gives a new generation of Kenyan students the hope of affording an education. With clarity and grace, A Small Act bears witness to the ripple effect one singular action can have.
This Week's Featured Films