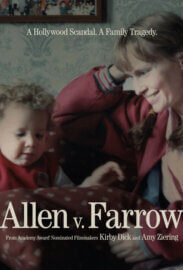 Please copy this link to share it:
https://www.filmplatform.net/product/allen-v-farrow
Streaming Access
Unfortunately, this film is not available for streaming yet.
As soon as it will be available for streaming, it will appear in your university streaming page.
Allen v. Farrow goes behind decades of sensational headlines to reveal the private story of one of Hollywood's most notorious and public scandals: the accusation of sexual abuse against Woody Allen involving Dylan, his then seven-year-old daughter with Mia Farrow. Examining the shattering effects of trauma on a family, the series chronicles the former Hollywood power couple's subsequent custody trial, the revelation of Allen's relationship with Farrow's daughter, Soon-Yi, and the controversial aftermath in the years that followed. Ultimately, Allen v. Farrow is a haunting depiction of the skepticism and backlash that can result from an accusation.
This Week's Featured Films