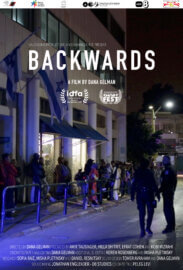 Please copy this link to share it:
https://www.filmplatform.net/product/backwards
Streaming Access
Unfortunately, this film is not available for streaming yet.
As soon as it will be available for streaming, it will appear in your university streaming page.
At the outskirts of the Tel Aviv "bubble" a play is enacted nightly, with hundreds of work-seeking migrants and asylum seekers waiting to enter the Immigration Offices, their gateway to a better life. By midnight, hundreds of people have lined up, most of them Ukrainian. Most of them won't get in anyway, and even the few that do will go through a procedure that doesn't provide much chance of success. Backwards encapsulates the refugee crisis into a single night: exhausted multitudes of people patiently persisting in their effort to begin a new life—as the rest of the world sleeps.
This Week's Featured Films