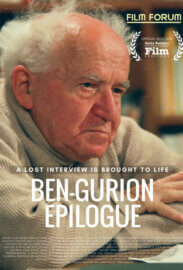 Please copy this link to share it:
https://www.filmplatform.net/product/ben-gurion-epilogue
Streaming Access
Unfortunately, this film is not available for streaming yet.
As soon as it will be available for streaming, it will appear in your university streaming page.
The film brings to life a lost interview with of one of the modern history's greatest leaders, David Ben-Gurion. It is 1968, he is 82 and lives in the desert. Ben-Gurion's introspective soul-searching provides a surprising vision for crucial decisions Israel needs to make today. At the time of the global leadership crisis, the film also brings thought-provoking insights about the role of leaders in today's complex world.
This Week's Featured Films