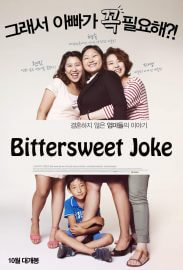 Please copy this link to share it:
https://www.filmplatform.net/product/bittersweet-joke
Streaming Access
Unfortunately, this film is not available for streaming yet.
As soon as it will be available for streaming, it will appear in your university streaming page.
In Korea, the term "unwed mother" is associated with irresponsibility and infidelity. Despite social prejudice and financial hardship, nowadays more Korean women are choosing to raise their children in fatherless homes rather than aborting their babies or giving them up for adoption. Hyungsook hasn't seen her parents for six years because she had a child without being married. Her son, Junseo isn't allowed to hang out with his best friend any more because he is a child of an unwed mother. The film examines the gap between their notions of family and traditional Korean values.
| | |
| --- | --- |
| Running Time: | 52 min. |
| Subject(s): | Asian Studies, Gender, Society, Women |
| Language(s): | Korean |
| Subtitles: | English |
| Director(s): | |
| Producer(s): | KIM JIYEON/JENNY |
| Cinematographer: | LEE SUNYOUNG |
| Editor(s): | NOH YUHJUNG |
| Production Company: | Productions Gongbang |
This Week's Featured Films