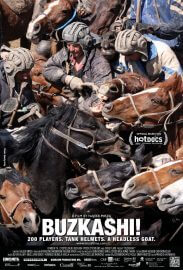 Please copy this link to share it:
https://www.filmplatform.net/product/buzkashi
Streaming Access
Unfortunately, this film is not available for streaming yet.
As soon as it will be available for streaming, it will appear in your university streaming page.
In Tajikistan's majestic Pamir mountains, horse riders battle in a centuries-old sport that pits individual riders against one another. Azam, a successful shepherd and Buzkashi champion, is experiencing drastic change. At home, his son prefers to study medicine than take over his father's flock. On the field, Azam plays for honour and integrity but his main rival, Khurshed, uses his wealth to organize mafia-style alliances. From the chaotic, brutal action of the game to the serenity of the quiet hillsides, we follow a man shaped by tradition, now forced to face the modern world.
| | |
| --- | --- |
| Running Time: | 82/52 min. |
| Subject(s): | Asian Studies, Ethnography, Sports |
| Language(s): | Russian |
| Subtitles: | English |
| Director(s): | |
| Producer(s): | Micheline Shoebridge, Najeeb Mirza |
| | |
| | |
| Production Company: | Buzkashi Productions Inc. |
This Week's Featured Films