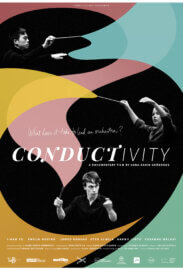 Please copy this link to share it:
https://www.filmplatform.net/product/conductivity
Streaming Access
Unfortunately, this film is not available for streaming yet.
As soon as it will be available for streaming, it will appear in your university streaming page.
Conductivity is a film about creative leadership told through the story of three young conductors at the prestigious Sibelius Academy in Helsinki, Finland; I-Han Fu (Taiwan), Emilia Hoving (Finland) and James Kahane (France). When stepping on the podium, they are put under a magnifying glass. Conductor training, in essence, is leadership training.
This Week's Featured Films