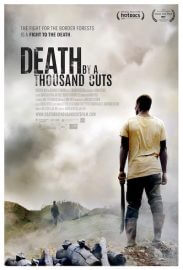 Please copy this link to share it:
https://www.filmplatform.net/product/death-by-a-thousand-cuts
Streaming Access
Unfortunately, this film is not available for streaming yet.
As soon as it will be available for streaming, it will appear in your university streaming page.
Death by a Thousand Cuts
In DEATH BY A THOUSAND CUTS, Eligio Eloy Vargas, alias Melaneo, a Dominican Park Ranger in the Sierra de Bahoruco National Park was found brutally murdered by machete. At the time, he was believed to have been on patrol investigating an illegal charcoal production site often run by Haitians coming across the border into protected Dominican forests. This murder becomes the metaphor for the larger story of increasing tension between Haiti and the Dominican Republic over illicit charcoal exploitation and mass deforestation.
This Week's Featured Films