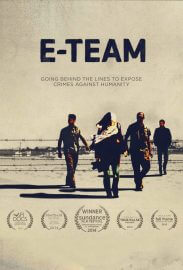 Please copy this link to share it:
https://www.filmplatform.net/product/e-team
Streaming Access
Unfortunately, this film is not available for streaming yet.
As soon as it will be available for streaming, it will appear in your university streaming page.
E-TEAM
Anna, Ole, Fred and Peter are four members of the Emergencies Team — or E-Team — the most intrepid division of a respected, international human rights group. Trained to deal with unfolding crises, the E-Team flies to hotspots all over the world as soon as allegations of human rights abuse surface.
This Week's Featured Films