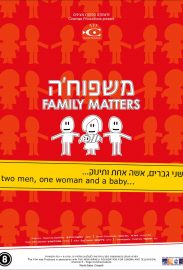 Please copy this link to share it:
https://www.filmplatform.net/product/family-matters
Streaming Access
Unfortunately, this film is not available for streaming yet.
As soon as it will be available for streaming, it will appear in your university streaming page.
How does a single heterosexual woman, who's tired of waiting for Mr. Right, do what she desires most and give birth to a child? This dilemma challenged Dafna, until she met Itamar and Kai, a gay couple who decided to expand their family and to have a child. From this triangle springs an alternative family unit. As issues of jealousy, identity, intimacy & partnerhood arise, the film follows the newborn family through the entire process, from the initial efforts to conceive, through the pregnancy and the birth itself up until the baby's first birthday.
Brooadcasts

Israel, Belgium, Spain, Denmark, Sweden, Estonia, Portugal, Sweden, Switzerland, Poland
Back to Film Summary
This Week's Featured Films