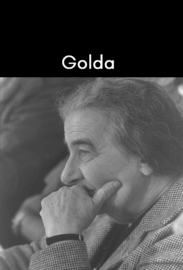 Please copy this link to share it:
https://www.filmplatform.net/product/golda
Streaming Access
Unfortunately, this film is not available for streaming yet.
As soon as it will be available for streaming, it will appear in your university streaming page.
"All my life I have worked among men and they have treated me on my merits. I never knew a man who gave in to an argument of mine because I was a woman – except my husband".
Golda Meir, the only woman ever to be elected P.M. in Israel. Her term lasted between the war of Attrition and the 1973 Yom Kipur Wars, following which she resigned from office.
The ultimate Jewish Mother, Golda Meir, was in fact the Israeli Iron Lady, neither more civilian nor more feminine in her decisions than her male counterparts. Golda Meir continued the power politics of most Israeli leaders and personified Israel's unyielding stand.
This Week's Featured Films