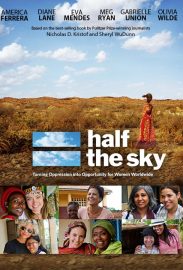 Please copy this link to share it:
https://www.filmplatform.net/product/half-the-sky
Streaming Access
Unfortunately, this film is not available for streaming yet.
As soon as it will be available for streaming, it will appear in your university streaming page.
Half the Sky: Turning Oppression into Opportunity for Women Worldwide, based on the widely acclaimed book by Pulitzer Prize winners Nicholas Kristof and Sheryl WuDunn was filmed in 10 countries and follows Kristof, WuDunn, and celebrity activists America Ferrera, Diane Lane, Eva Mendes, Meg Ryan, Gabrielle Union, and Olivia Wilde on a journey to tell the stories of inspiring, courageous individuals. Across the globe oppression is being confronted, and real meaningful solutions are being fashioned through health care, education, and economic empowerment for women and girls.
This Week's Featured Films