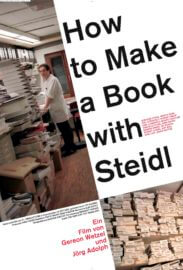 Please copy this link to share it:
https://www.filmplatform.net/product/how-to-make-a-book-with-steidl
Streaming Access
Unfortunately, this film is not available for streaming yet.
As soon as it will be available for streaming, it will appear in your university streaming page.
How to Make a Book with Steidl
Who's the man behind Robert Frank, Karl Lagerfeld and Jeff Wall? Their publisher Gerhard Steidl.
Spend an exclusive year with the world's most famous art publisher and printer of the 21st century and be part of the fragile processes when creativity is captured in a book. The art of publishing at its perfection. Featuring Robert Frank, Karl Lagerfeld, Joel Sternfeld, and Günther Grass a.m.m.
This Week's Featured Films