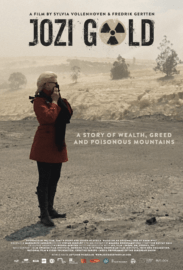 Please copy this link to share it:
https://www.filmplatform.net/product/jozi-gold
Streaming Access
Unfortunately, this film is not available for streaming yet.
As soon as it will be available for streaming, it will appear in your university streaming page.
Jozi Gold
The mines of Johannesburg, or Jozi, have produced a third of all the gold mined in human history. Now the mines are falling apart, and the city is confronted by an environmental nightmare: Tons of radioactive waste polluting the air and turning water into poisonous Acid Mine Drainage. In true Erin Brockovich style, Mariette is on a mission to uncover the truth about Jozi's mine waste and force the gold industry to take responsibility.
This Week's Featured Films