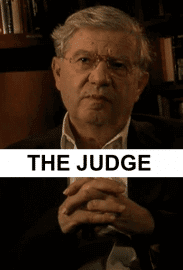 Please copy this link to share it:
https://www.filmplatform.net/product/judge
Streaming Access
Unfortunately, this film is not available for streaming yet.
As soon as it will be available for streaming, it will appear in your university streaming page.
Few judges anywhere have confronted the challenges faced by Aharon Barak, the former Chief Justice of Israel's Supreme Court. A survivor of the Holocaust, he knows firsthand the dangers posed by intolerance and xenophobia, and spent his career negotiating a delicate balance between Israel as a Jewish state and Israel as a democracy. Though often controversial, his rulings have become textbook cases for law students around the world. During his tenure Barak never spoke to the media. Now that he feels his time is running out, he has agreed to bare his soul—the soul of a judge—on camera for the very first time.
This Week's Featured Films