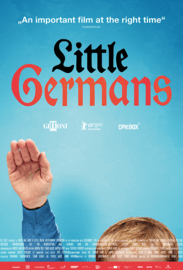 Please copy this link to share it:
https://www.filmplatform.net/product/little-germans
Streaming Access
Unfortunately, this film is not available for streaming yet.
As soon as it will be available for streaming, it will appear in your university streaming page.
Little Germans
Eva and Godwin are two small children who will soon participate in boot camps where they are trained to become "Germany's future elite" with other children like them.
Order and decency are their parents' most important values. They'll learn to be proud of their parents, who struggle to preserve their home country from foreign, harmful influences. And they'll realize, that there are many "evil" people, who don't understand their parents, who tag them as criminals and even try to put them under arrest. Little Germans takes a look at rightwing extremism from a different angle.
This Week's Featured Films