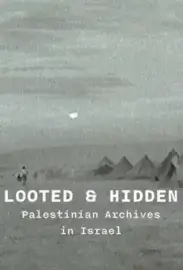 Please copy this link to share it:
https://www.filmplatform.net/product/looted-and-hidden
Streaming Access
Unfortunately, this film is not available for streaming yet.
As soon as it will be available for streaming, it will appear in your university streaming page.
The film "Looted and Hidden" explores Palestinian archives taken by Israeli / Jewish forces during the 20th century, now buried in Israeli military vaults. Stemming from a prolonged effort to access classified materials, the movie showcases once-lost archival footage and images. It emphasizes treasures seized in Beirut in the 1980s, spotlighting film and visual archives that chronicled the Palestinian Revolution from the late 1960s to the early 1980s. Additionally, it touches on photographic archives taken since the 1930s. The film questions archival practices in colonial regions and conflict zones, underscoring the importance of uncovering what's been altered or removed.
This Week's Featured Films