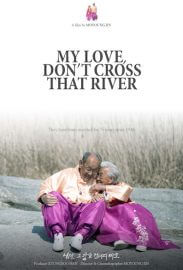 Please copy this link to share it:
https://www.filmplatform.net/product/love-dont-cross-river
Streaming Access
Unfortunately, this film is not available for streaming yet.
As soon as it will be available for streaming, it will appear in your university streaming page.
My Love Don't Cross that River
Perhaps one of the most romantic documentaries ever made. Beautifully shot in a breathtaking mountain village in South Korea, the film follows a husband and wife known as the "100-year-old lovebirds." Joyful, playful and so visibly in love, they have lived a fairy-tale romance through their 76 years of marriage.
But when the husband falls ill, the thought of his death becomes almost unbearable for the wife. With gorgeous cinematography, exquisite storytelling and a compassionate approach to his subjects, it is no wonder that the film broke box office records in its native South Korea.
Protagonists

There live a couple who are known as '100-year-old lovebirds'. The husband is 98 years old, and the wife is 89 years old. Since 1938, they have lived together for 76 years. They dearly love each other wearing Korean traditional clothes all the time, and still fall asleep hand in hand. As fairy tale's characters, the husband is strong like a woodman, and the wife is full of charms like a princess. Even now, they express their mind passionately drawing a heart over their head, and say 'I love you'.
About 80 years ago, he was hired as a house worker for her parents who run a small smithy. Her parents let them get married to make use of him as a worker without paying money. It was great chance for 24-year-old man who lost his parents very young and has no place to stay. But, at the same time, it was a disaster for a 15-year-old girl.
Actually, it was not that strange to get married in early teenage at that time, but he understood her. He just stayed around her without any physical contact for over 3 years. She is still deeply grateful to him for that.
They had 12 children, but lost 6 of them by measles. It still makes them weep very often.
Nowadays, the husband has big difficulties in hearing and conversation with his wife. He goes to hospital very often. Quietly and like a thief, the 'death' sit between them.
Back to Film Summary
This Week's Featured Films